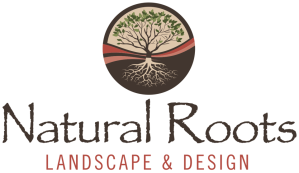 Are you constructing new property with exceptional site challenges? Is your aim to increase the value and prestige of your commercial property? Do you want to add to the value and curb appeal of your house? Would you like to enjoy the full potential of your yard? Projects large and small- Natural Roots Landscape & Design does them all!
Call on Natural Roots Landscape & Design for all your needs, from smaller projects, such as installing a new lawn or putting a privacy planting in place, to larger jobs such as creating and installing your new landscape.
We'll work from your plans, or, if you like, from plans created by our experienced design staff. Either way, Natural Roots Landscape & Design has the expertise and equipment to complete your project efficiently and beautifully!
Using state-of-the-art equipment, our veteran construction staff will see to it that you have smooth, timely installation of all your special projects. And, whether you'd like us to implement a full design plan or have us work on a multi-step timetable, we'll roll out a schedule to suit your needs.
Our experienced team at Natural Roots Landscape & Design has transformed distinctive properties throughout the Metro Knoxville area.